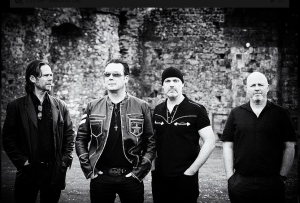 Leigh Rock are delighted to welcome back the ever-popular U2 Tribe with their tribute to U2, as the first of two 'Irish month' gigs.
U2 Tribe are a U2 tribute band, based in the South East of England, whose members are all passionate U2 fans. The four members of U2 tribe are committed to capturing an authentic sound and performing with energy and passion in a similar way to the original band.
U2 Tribe will take you on a journey that is the history of U2's music, playing some of the cult classics like 'Electric Co' and 'Out of Control', to the passion of songs like 'Sunday Bloody Sunday', to the stadium staples of songs like 'Where the Streets have no name' and 'Beautiful Day' and also newer material from the past few years like 'Vertigo' and 'The Miracle of Joey Ramone' plus many more.
Leigh Community Centre on 12th March, 2022. Doors open 7:30pm
Licensed bar available all evening.
Free parking behind the Community Centre.
This is a mixed standing / seated event.
Tickets: £12 in advance, £15 on the door. Tickets are available from Revolver Records / Martin Wood Events and from the Leigh Community Centre Cafe as well as here online. Online ticket prices have a £1 booking fee per ticket included.
There are a mixture of seats and standing tickets for this gig – subject to any Covid-19 restrictions.
The number of seats is limited. Seats are at tables, usually for 8 people. Please be aware that couples and smaller groups will therefore be sharing a table with others.
Please be aware that if you are seated, people around you will be standing and/or dancing and it is not possible to guarantee an uninterrupted view of the stage.
PLEASE NOTE:
We are experiencing issues with emails not being delivered to email addresses controlled by Microsoft i.e. Hotmail, Outlook, Live, and MSN. We have addressed this with Microsoft and are waiting for them to whitelist our domain.
In the meantime, if you have an alternative email address please use that when booking tickets.
If that's not possible, please email Martin at martinwood382@gmail.com and he will forward your ticket information.
WE MAINTAIN A LIST OF ALL ONLINE TICKET SALES AT EACH EVENT SO WE ALWAYS HAVE A RECORD OF YOUR PURCHASE ON THE NIGHT – YOU DO NOT NEED TO PRODUCE A PRINTED TICKET.
Online ticket sales for this event are closed.