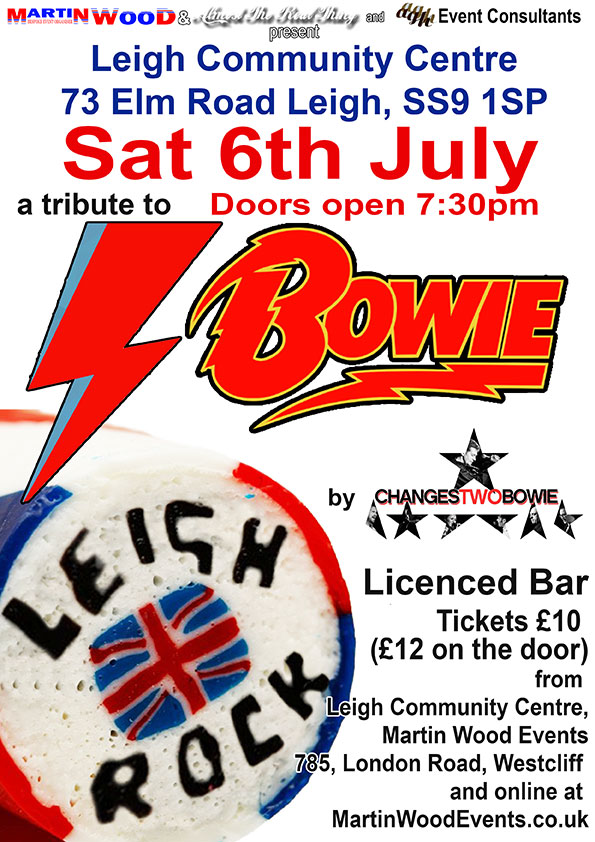 Our 6th Leigh Rock event this year is a tribute to David Bowie, by ChangesTwoBowie.
With such a huge selection of songs to choose from, ChangesTwoBowie are including new material for each show. The emphasis is on presenting a career spanning breadth of work from the Bowie catalogue. Whilst the hits and standards are clearly in evidence, the band also like to visit lesser known album tracks, as well as the most recent recordings.
"ChangesTwoBowie have a collective passion for the music of David Bowie. Although there are glimpses of glitter and greasepaint and his early songs are included and played with gusto, this is not a 'Ziggy' show; more an attempt to cram 45 years of Bowie music into a two hour performance. They do it well."
Richard Pilgrim – webmusicreviews.
Leigh Community Centre on Saturday 6th July 2019. Doors open 7:30pm
Licenced bar available all evening.
Tickets: £10 in advance, £12 on the door.
This year we are offering reserved seating (at no extra cost) so please choose:
There are a mixture of seats and standing tickets for this gig.
The number of seats is limited. Seats are at tables, usually for 8 people. Please be aware that couples and smaller groups will therefore be sharing a table with others.
Please be aware that if you are seated, people around you will be standing and/or dancing and it is not possible to guarantee an uninterrupted view of the stage.