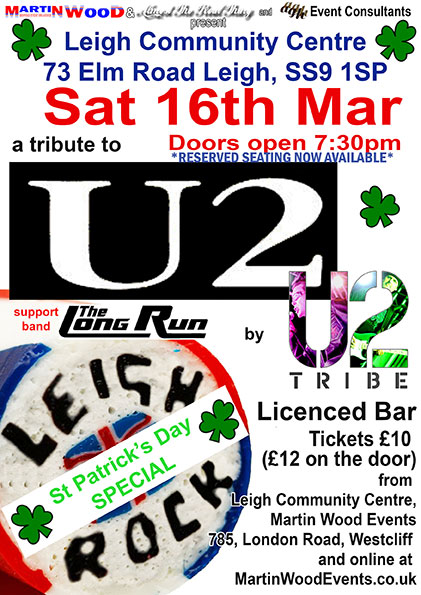 Sat 16th March – St Patrick's Day Special!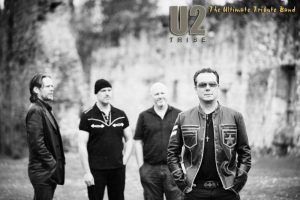 'U2 Tribe', passionate U2 fans who pour their hearts and souls into capturing the sounds, sights, and love that is U2, have been entertaining audiences all over the UK and Europe since 2010.
An authentic U2 tribute band is not an easy thing to achieve and as dedicated fans, U2 TRIBE replicate the sound, energy, look and feel of arguably the biggest, the most successful and probably the best band in the world with songs including With Or Without You, Where The Streets Have No Name, Beautiful Day, Desire, Vertigo, Sunday Bloody Sunday, Pride and many more.
Support band: The Long Run
Leigh Community Centre on 16th March, 2019. Doors open 7:30pm
Licenced bar available all evening.
This is a mixed standing / seated event.
Tickets: £10 in advance, £12 on the door.
This year we are offering reserved seating (at no extra cost) so please choose:
There are a mixture of seats and standing tickets for this gig.
The number of seats is limited. Seats are at tables, usually for 8 people. Please be aware that couples and smaller groups will therefore be sharing a table with others.
Please be aware that if you are seated, people around you will be standing and/or dancing and it is not possible to guarantee an uninterrupted view of the stage.