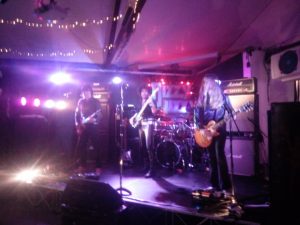 The second of our 'Irish month' gigs is a tribute to Thin Lizzy by Dizzy Lizzy.
Dizzy Lizzy are a fantastic live tribute act, dedicated to one of Rock's all time legends 'Phil Lynott' & THIN LIZZY. Established in 1994, their sound & set-list faithfully recreate that trademark Lizzy sound.
Philomena Lynott stated that Dizzy Lizzy are 'the closest to playing my sons music' A this sentiment has echoed throughout the years. Dizzy Lizzy do indeed have an amazing sound and resemblance to the classic 70s & 80s rock band. They will take you back in time to relive that magical musical era with a superb blend of classic foot stomping rock anthems and emotive rock ballads inc. The Boys Are Back In Town, Whiskey In the Jar, Emerald, Black Rose, Rosalie, Sarah, Still In Love With You and many more. Many have acknowledged Philomena's statement to be true, Dizzy Lizzy are the closest and most convincing tribute to the real thing.
One of the country's leading and most dynamic tribute acts, they are the only act to have headlined both, the 'Vibe for Philo' in Dublin & 'Remember Phil & Gary' event in Holland. They have also appeared at many prestigious venues around Britain, such as the Cavern and the Mathew Street festival in Liverpool, O2 Academies up & down the country and other large capacity venues including Butlin's.
They have also performed and toured with the original Thin Lizzy guitarist Eric Bell. Eric Bell's reaction on first seeing the band…'I could only watch three numbers owing to the emotions. The resemblance to Phil and the mannerisms and playing, it was spooky – it made the hairs stand up on the back of my neck…'
Leigh Community Centre on 26th March, 2022. Doors open 7:30pm
Licensed bar available all evening.
Free parking behind the Community Centre.
This is a mixed standing / seated event.
Tickets: £12 in advance, £15 on the door. Tickets are available from Revolver Records / Martin Wood Events and from the Leigh Community Centre Cafe as well as here online. Online ticket prices have a £1 booking fee per ticket included.
There are a mixture of seats and standing tickets for this gig – subject to any Covid-19 restrictions.
The number of seats is limited. Seats are at tables, usually for 8 people. Please be aware that couples and smaller groups will therefore be sharing a table with others.
Please be aware that if you are seated, people around you will be standing and/or dancing and it is not possible to guarantee an uninterrupted view of the stage.
PLEASE NOTE:
We are experiencing issues with emails not being delivered to email addresses controlled by Microsoft i.e. Hotmail, Outlook, Live, and MSN. We have addressed this with Microsoft and are waiting for them to whitelist our domain.
In the meantime, if you have an alternative email address please use that when booking tickets.
If that's not possible, please email Martin at martinwood382@gmail.com and he will forward your ticket information.
WE MAINTAIN A LIST OF ALL ONLINE TICKET SALES AT EACH EVENT SO WE ALWAYS HAVE A RECORD OF YOUR PURCHASE ON THE NIGHT – YOU DO NOT NEED TO PRODUCE A PRINTED TICKET.
Online ticket sales for this event are closed.