The Golden Starman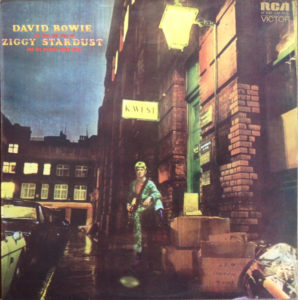 In celebration of the 50th Anniversary of the release of The Rise and Fall of Ziggy Stardust and the Spiders from Mars 'Songs Of Bowie' will perform this album and other Bowie favourites at an intimate 'in the round' evening at Leigh Community Centre on Saturday 21st May 2022.
This will be an all-seated event, and tickets are available for both General seating and Table seating.
'Songs Of Bowie' are:

Darren Jones – Vox, guitars, piano, violin
Holly Hannigan – Vocals, guitar
Hannah Whitbourn – Piano, Cello
Davey Hal – Vox, piano, guitar
Leigh Community Centre on 21st May, 2022. Doors open 7:30pm
Support: TBA
Licensed bar available all evening.
Free parking behind the Community Centre.
This is an all-seated event. Seats at tables are for 8 people. Please be aware that couples and smaller groups will therefore be sharing a table with others.
Tickets: £12 in advance, £15 on the door. Tickets are available from Revolver Records / Martin Wood Events and from Leigh Community Centre Cafe as well as here online. Online ticket prices have a £1 booking fee included.
PLEASE NOTE:
We are experiencing issues with emails not being delivered to email addresses controlled by Microsoft i.e. Hotmail, Outlook, Live, and MSN. We have addressed this with Microsoft and are waiting for them to whitelist our domain.
In the meantime, if you have an alternative email address please use that when booking tickets.
If that's not possible, please email Martin at martinwood382@gmail.com and he will forward your ticket information.
WE MAINTAIN A LIST OF ALL ONLINE TICKET SALES AT EACH EVENT SO WE ALWAYS HAVE A RECORD OF YOUR PURCHASE ON THE NIGHT – YOU DO NOT NEED TO PRODUCE A PRINTED TICKET.
Tickets include a £
1.00
ticket handling charge.