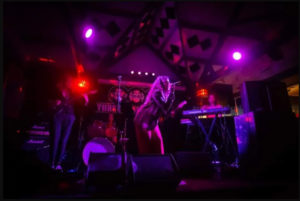 June 2020 saw the 50th anniversary of the release of Deep Purple's seminal album 'In Rock.' A generation on and their music is still being celebrated, this time by the all female group, Diva Purple, the UK's first all female tribute to Deep Purple, consisting of five of the country's top musicians.
Performing the Deep Purple Classics from a new perspective, Diva Purple focus mainly on the early 70's material such as Speed King, Highway Star, Strange Kind of Woman, Child in Time and Smoke on the Water as well as a few of the older and more recent hits. So come celebrate Deep Purple, the much loved and influential Rock giants with the Speed Queens that are Diva Purple.
Leigh Community Centre on 11th February, 2022. Doors open 7:30pm
Licensed bar available all evening.
Free parking behind the Community Centre.
This is a mixed standing / seated event.
Tickets: £12 in advance, £15 on the door. Tickets are available from Revolver Records / Martin Wood Events and from the Leigh Community Centre Cafe as well as here online. Online ticket prices have a £1 booking fee per ticket included.
There are a mixture of seats and standing tickets for this gig – subject to any Covid-19 restrictions.
The number of seats is limited. Seats are at tables, usually for 8 people. Please be aware that couples and smaller groups will therefore be sharing a table with others.
Please be aware that if you are seated, people around you will be standing and/or dancing and it is not possible to guarantee an uninterrupted view of the stage.
PLEASE NOTE:
We are experiencing issues with emails not being delivered to email addresses controlled by Microsoft i.e. Hotmail, Outlook, Live, and MSN. We have addressed this with Microsoft and are waiting for them to whitelist our domain.
In the meantime, if you have an alternative email address please use that when booking tickets.
If that's not possible, please email Martin at martinwood382@gmail.com and he will forward your ticket information.
WE MAINTAIN A LIST OF ALL ONLINE TICKET SALES AT EACH EVENT SO WE ALWAYS HAVE A RECORD OF YOUR PURCHASE ON THE NIGHT – YOU DO NOT NEED TO PRODUCE A PRINTED TICKET.
Online ticket sales for this event are closed.