FOR ONE NIGHT ONLY!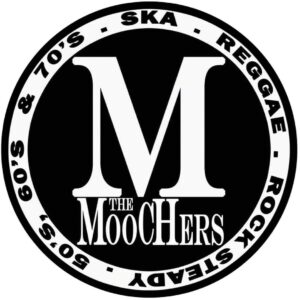 We are absolutely delighted to welcome The Moochers, one of the UK's premier Reggae / Ska / Rock Steady bands, to Leigh Rock Reggae at Leigh Community Centre on Saturday 17th September.
Also on the bill are Slim Pickings, a local Reggae / Dub force band.
Tickets are strictly limited for this standing-only event.
Leigh Community Centre on 17th September, 2022. Doors open 7:30pm
Licensed bar available all evening.
Free parking behind the Community Centre.
This is a standing-only event.
Tickets: £15 in advance, £20 on the door (if available).
Tickets are available from Revolver Records / Martin Wood Events and from the Leigh Community Centre Cafe as well as here online. Online ticket prices have a £1 booking fee included.
PLEASE NOTE:
We are experiencing issues with emails not being delivered to email addresses controlled by Microsoft i.e. Hotmail, Outlook, Live, and MSN. We have addressed this with Microsoft and are waiting for them to whitelist our domain.
In the meantime, if you have an alternative email address please use that when booking tickets.
If that's not possible, please email Martin at martinwood382@gmail.com and he will forward your ticket information.
WE MAINTAIN A LIST OF ALL ONLINE TICKET SALES AT EACH EVENT SO WE ALWAYS HAVE A RECORD OF YOUR PURCHASE ON THE NIGHT – YOU DO NOT NEED TO PRODUCE A PRINTED TICKET.
Tickets include a £
1.00
ticket handling charge.