Sandy Denny Tribute Night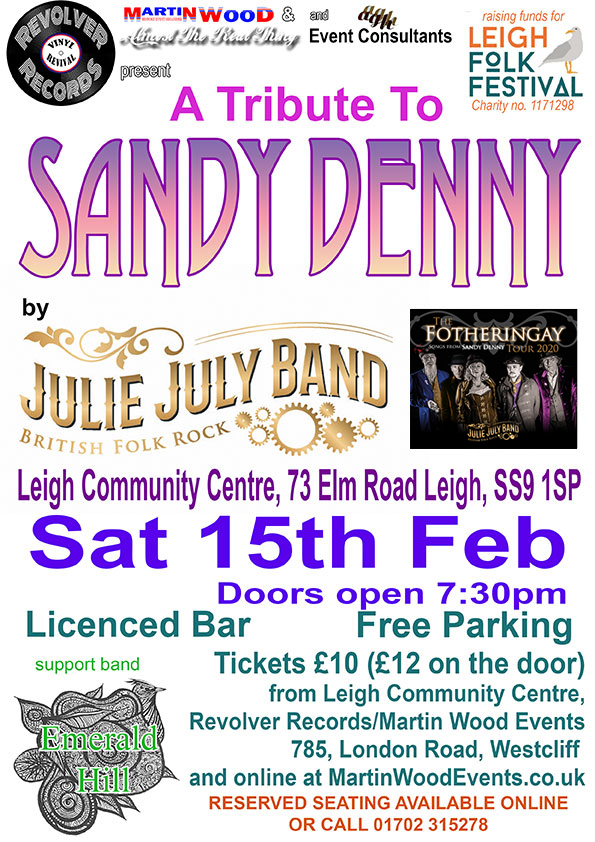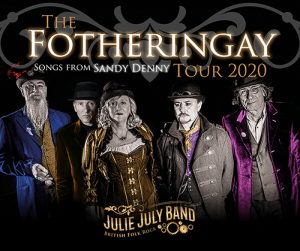 Saturday 15 February 2020
We are delighted to welcome the Julie July Band with their iconic tribute to Sandy Denny.
The Julie July Band has built a substantial reputation on re-interpretations of Sandy Denny's songs and play a heartfelt tribute to the great singer-songwriter. In her brief career she left a legacy of beautiful, haunting original and traditional compositions.  Richard Thompson called her 'The greatest artist of her generation". Melody Maker readers twice voted her "Best British Female Singer" in 1970 and 1971. Her most famous song "Who Knows Where the Time Goes?", was voted favourite folk-track of all time by listeners of BBC Radio 2 and has been covered by many artists including;- Judy Collins, Nina Simone and Eva Cassidy. Now, 40 years on the Julie July Band perform a selection of her songs from:  The Strawbs, Fotheringay, Fairport Convention and her solo career.
Leigh Community Centre on Saturday 15 February, 2020. Doors open 7:30pm
Licenced bar available all evening. Free parking.
This event is raising funds for Leigh Folk Festival.
Tickets: £10 in advance, £12 on the door.
This year we are offering reserved seating (at no extra cost) so please choose:
PLEASE NOTE: If you do not prebook seats we cannot guarantee there will be spare seats on the night.
There are a mixture of seats and standing tickets for this gig.
The number of seats is limited. Seats are at tables, usually for 8 people. Please be aware that couples and smaller groups will therefore be sharing a table with others.
Please be aware that if you are seated, people around you will be standing and/or dancing and it is not possible to guarantee an uninterrupted view of the stage.
All online tickets have a £1 booking fee added.
PLEASE NOTE:
We are experiencing issues with emails not being delivered to email addresses controlled by Microsoft i.e. Hotmail, Outlook, Live, and MSN. We have addressed this with Microsoft and are waiting for them to whitelist our domain.
In the meantime, if you have an alternative email address please use that when booking tickets.
If that's not possible, please email Martin at martinwood382@gmail.com and he will forward your ticket information.
WE MAINTAIN A LIST OF ALL ONLINE TICKET SALES AT EACH EVENT SO WE ALWAYS HAVE A RECORD OF YOUR PURCHASE ON THE NIGHT – YOU DO NOT NEED TO PRODUCE A PRINTED TICKET.