Leigh Rock – U2 tribute night – 9 June 2018 – NOW 16 MAR 2019
The postponed gig from 9th June has been rescheduled for Sat 16th March – St Patrick's Day Special!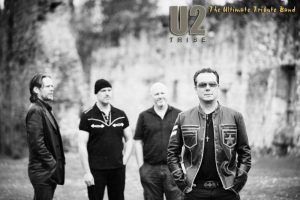 'U2 Tribe', passionate U2 fans who pour their hearts and souls into capturing the sounds, sights, and love that is U2, have been entertaining audiences all over the UK and Europe since 2010.
An authentic U2 tribute band is not an easy thing to achieve and as dedicated fans, U2 TRIBE replicate the sound, energy, look and feel of arguably the biggest, the most successful and probably the best band in the world with songs including With Or Without You, Where The Streets Have No Name, Beautiful Day, Desire, Vertigo, Sunday Bloody Sunday, Pride and many more.
Leigh Community Centre on 16th March, 2019. Doors open 7:30pm
Licenced bar available all evening.
This is a mainly standing event.
Tickets: £10 in advance and £12 on the door.