Leigh Rock – Rock'n'Roll Tribute 12 Oct 2019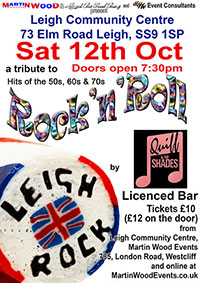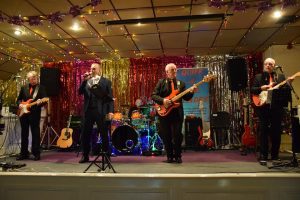 Did you listen to pirate radio? Did you sing along with all the tunes – and know every word? Well, gents dig out the drape from the back of the wardrobe, ladies get your glad rags on, polish up your dancing shoes, and everyone rock'n'roll down to Leigh Community Centre on Sat 12 October to relive your youth with Quiff & The Shades.
These guys will blow your mind with their 50s, 60s and 70s revival tribute. You won't be sitting down all evening!
Quiff and The Shades started life as a tribute act to the early years of Cliff Richard & The Shadows. Over the years, however, they have introduced an increasing number of the more popular & memorable 1960's hits to broaden their appeal and now offer the music of The Beatles, The Searchers, Gerry & The Pacemakers, Elvis Presley, Eddie Cochran, The Hollies, Buddy Holly and loads more, while still featuring a few Cliff songs & Shads instrumentals.
Leigh Community Centre Sat 12 October 2019. Doors open 7:30pm
Licenced bar available all evening.
Tickets: £10 in advance, £12 on the door.
This year we are offering reserved seating (at no extra cost) so please choose:
PLEASE NOTE: If you do not prebook seats we cannot guarantee there will be spare seats on the night.
There are a mixture of seats and standing tickets for this gig.
The number of seats is limited. Seats are at tables, usually for 8 people. Please be aware that couples and smaller groups will therefore be sharing a table with others.
Please be aware that if you are seated, people around you will be standing and/or dancing and it is not possible to guarantee an uninterrupted view of the stage.
All online tickets have a £1 booking fee added.