Leigh Rock – Oasis Tribute 9 Nov 2019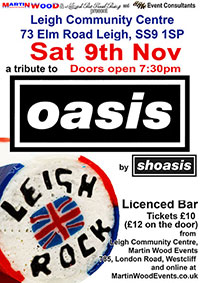 If you want to experience the magic of the 90's when Oasis were at their best, then don't miss Shoasis, the south-east's ultimate Oasis tribute band – the perfect option for any Oasis fan looking to 'ave it.
Shoasis boast an extensive set list which includes all your favourites such as Swamp Song – Hello – Rock & Roll Star – Some Might Say – Roll with it – Live Forever – Hindu Times – Morning Glory – Importance of Being Idle – WonderWall – Little By Little – Listen Up – SuperSonic – Lyla – Standby Me – Bring It on Down – Acquiesce – Shock Of The Lightning – The Masterplan – Round Our Way – Cigarettes and Alcohol – Champagne Supernova – Don't Look Back in Anger and many more.
The band have spent their time crafting the ultimate Oasis gig experience so you can relive your "Morning Glory" days. So what are you waiting for?
Leigh Community Centre Sat 9 November 2019. Doors open 7:30pm
Licenced bar available all evening.
Tickets: £10 in advance, £12 on the door.
This year we are offering reserved seating (at no extra cost) so please choose:
PLEASE NOTE: If you do not prebook seats we cannot guarantee there will be spare seats on the night.
There are a mixture of seats and standing tickets for this gig.
The number of seats is limited. Seats are at tables, usually for 8 people. Please be aware that couples and smaller groups will therefore be sharing a table with others.
Please be aware that if you are seated, people around you will be standing and/or dancing and it is not possible to guarantee an uninterrupted view of the stage.
All online tickets have a £1 booking fee added.