Leigh Rock – Led Zeppelin tribute night – 12 DECEMBER 2020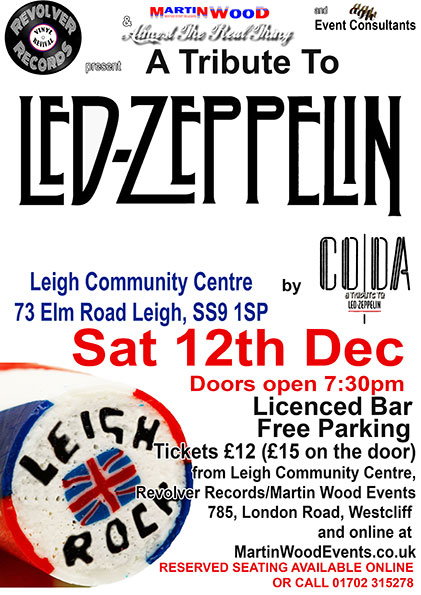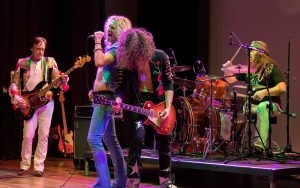 It's Been a Long Time Since I Rock and Rolled
In a funny kind of way, it has. Whilst Simon had been playing the music of Led Zeppelin for many, many years, it was only with the help of Adam Rose-Alison, Peter Byrne and Rob Deery he was been able to fulfill his dream of forming the ultimate Led Zeppelin tribute band.
Four musicians who are dedicated to recreating the music with such passion, accuracy and love for every last detail, from the music to the costumes to the production to the live show.
CODA – a Tribute to Led Zeppelin is now THE Led Zeppelin tribute band in the UK!
Leigh Community Centre on Saturday 12 December, 2020. Doors open 7:30pm
Licenced bar available all evening.
Free parking behind the centre.
Tickets: £12 in advance, £15 on the door.
We offer reserved seating (at no extra cost) so please choose:
PLEASE NOTE: If you do not prebook seats we cannot guarantee there will be spare seats on the night.
There are a mixture of seats and standing tickets for this gig.
The number of seats is limited. Seats are at tables, usually for 8 people. Please be aware that couples and smaller groups will therefore be sharing a table with others.
Please be aware that if you are seated, people around you will be standing and/or dancing and it is not possible to guarantee an uninterrupted view of the stage.
All online tickets have a 10% booking fee added.
PLEASE NOTE:
We are experiencing issues with emails not being delivered to email addresses controlled by Microsoft i.e. Hotmail, Outlook, Live, and MSN. We have addressed this with Microsoft and are waiting for them to whitelist our domain.
In the meantime, if you have an alternative email address please use that when booking tickets.
If that's not possible, please email Martin at martinwood382@gmail.com and he will forward your ticket information.
WE MAINTAIN A LIST OF ALL ONLINE TICKET SALES AT EACH EVENT SO WE ALWAYS HAVE A RECORD OF YOUR PURCHASE ON THE NIGHT – YOU DO NOT NEED TO PRODUCE A PRINTED TICKET.