Leigh Rock – The Jam tribute night – 20 July 2018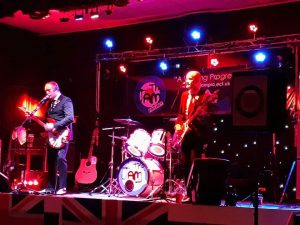 The seventh in a great series of rock tribute acts under the 'Leigh Rock' banner.
More than just a "jeans and t-shirt" tribute band, 'The Jam Project' is a powerful reminder of the music from the best mod punk band of the 70's and 80's.
The Jam were one of Britain's most successful and important bands that emerged from the punk and new wave era. They brought a sound and a look to an army of fans who, to this day, hold a devoted and unparalleled loyalty and passion. In their five-year career, between 1977 and 1982, The Jam had 18 top 40 singles, including four No.1 hits. In 1982, their last studio LP, The Gift, went to the top of the album chart and A Town Called Malice and Beat Surrender were No.1 singles.
'The Jam Project' is a celebration of the band at its best. Hit after hit, the band explode onto the stage suited and with the attention to detail of the early band, and blast out all your favourite raw energetic Jam songs.
Support band: The Regents
Leigh Community Centre on 20th July, 2018. Doors open 7:30pm
Licenced bar available all evening.
This is a mainly standing event.
Tickets: £10 in advance and £12 on the door.