Leigh Rock – Ian Dury and The Blockheads tribute night – 21 April 2018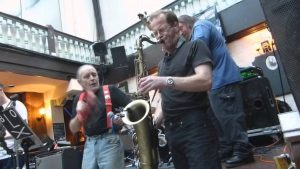 The fourth in a great series of rock tribute acts under the 'Leigh Rock' banner.
Once upon a time there was a band called THE BLOX.
THE BLOX are five dedicated geezers who got together to recreate the music of Ian Dury and The Blockheads. Music which is comprised of elements of funk, jazz, blues, reggae, even vaudeville.
Formed in 1999 by bass player Tony Clark, they performed their first gig in September 2000, seveneen years ago! This was a totally memorable gig in…. erm…? During their seventeen years (so far) THE BLOX have enjoyed playing at numerous festivals, touring twice with top ska band Bad Manners, sharing the bill with Hawkwind, and leaving these shores for various gigs overseas, i.e. Guernsey! 🙂 We've played some prestigious venues around the country such as The Concorde 2 in Brighton and The Astoria, Charing Cross Road – demolished shortly after we left it!
(All the above unashamedly lifted from their Facebook page!)
Leigh Community Centre on 21st April, 2018. Doors open 7:30pm
Licenced bar available all evening.
This is a mainly standing event.
Tickets: £10 in advance and £12 on the door.