Leigh Rock – Fleetwood Mac Tribute 14 Sept 2019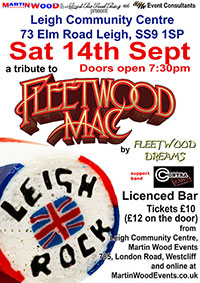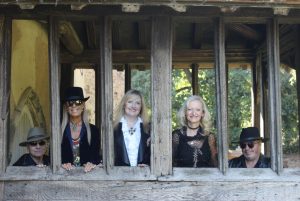 After the summer break we're back rocking at Leigh Community Centre with Fleetwood Dreams' tribute to Fleetwood Mac on Saturday 14 Sept 2019.
A unique interpretation, with keyboard, guitars, vocal harmonies and even a saxophone is sure to have you dancing and singing along as they revisit all Fleetwood Mac's most famous songs and celebrate one of the most long-running, prolific and popular bands in rock history. Expect lush keyboards, soaring guitar solos, 3-part harmonies, 3 great voices and some soulful saxophone.
Fleetwood Mac's songs have been widely covered over the years and even the most casual listener will recognise many of their big hits. By 2000, Fleetwood Mac had sold more than 100 million copies of its albums — including 25 million for Rumours alone. 'Black Magic Woman' is one of the most widely covered songs ever, 'Don't Stop' was the theme song for Bill Clinton's presidential campaign and right now, a version of 'Landslide' is being used in a TV advert! Just a few reasons why Fleetwood Mac's iconic songs hold a place in every music lovers' memory.
Support band: The Contra Band
Leigh Community Centre Sat 14 September. Doors open 7:30pm
Licenced bar available all evening.
Tickets: £10 in advance, £12 on the door.
This year we are offering reserved seating (at no extra cost) so please choose:
There are a mixture of seats and standing tickets for this gig.
The number of seats is limited. Seats are at tables, usually for 8 people. Please be aware that couples and smaller groups will therefore be sharing a table with others.
Please be aware that if you are seated, people around you will be standing and/or dancing and it is not possible to guarantee an uninterrupted view of the stage.
All online tickets have a £1 booking fee added.