Leigh Rock – Cliff Richard tribute night – 5 SEPTEMBER 2020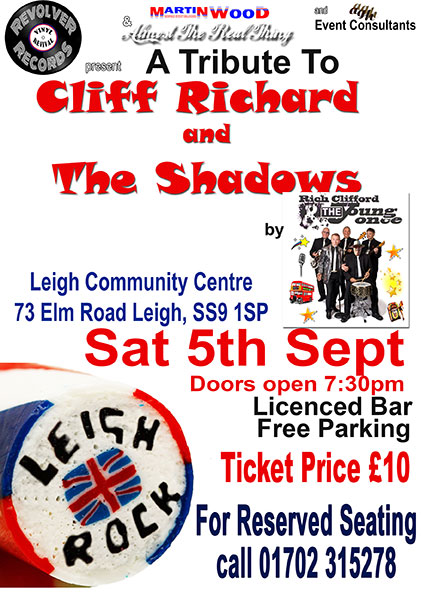 Rich Clifford & The Young Once are an Essex based function band of versatile and experienced musicians who will get your feet tapping and dance floor full with an authentic musical re-creation of Cliff and the Shadows, 60's hits by The Rolling Stones, The Beatles, Johhny Kidd and The Pirates, Roy Orbison, Spencer Davis, Ben E King, The Searchers, The Kinks, Chuck Berry, Eddie Cochran, and Buddy Holly (to name a few!).
Leigh Community Centre on 5th September, 2020. Doors open 7:30pm
Licenced bar available all evening.
Free parking behind the Community Centre.
This is a mixed standing / seated event.
Tickets: £10 in advance, £12 on the door.
We offer reserved seating (at no extra cost) so please choose:
There are a mixture of seats and standing tickets for this gig.
The number of seats is limited. Seats are at tables, usually for 8 people. Please be aware that couples and smaller groups will therefore be sharing a table with others.
Please be aware that if you are seated, people around you will be standing and/or dancing and it is not possible to guarantee an uninterrupted view of the stage.
PLEASE NOTE:
We are experiencing issues with emails not being delivered to email addresses controlled by Microsoft i.e. Hotmail, Outlook, Live, and MSN. We have addressed this with Microsoft and are waiting for them to whitelist our domain.
In the meantime, if you have an alternative email address please use that when booking tickets.
If that's not possible, please email Martin at martinwood382@gmail.com and he will forward your ticket information.
WE MAINTAIN A LIST OF ALL ONLINE TICKET SALES AT EACH EVENT SO WE ALWAYS HAVE A RECORD OF YOUR PURCHASE ON THE NIGHT – YOU DO NOT NEED TO PRODUCE A PRINTED TICKET.