ANOTHER DOUBLE-HEADER: IT'S GLAM ROCK NIGHT AT LEIGH ROCK!
We are delighted to welcome 'Aladdinsane' with their David Bowie tribute PLUS 'Bootleg Bolan' reprising all the T. Rex / Marc Bolan music in one amazing night.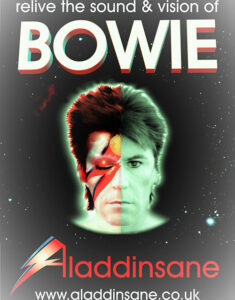 Aladdinsane – The Sound & Vision of Bowie is widely acclaimed as the best Bowie tribute band in the UK. They have played theatres, festivals and venues throughout the UK for the past 12 years. Paul Henderson's performance as David Bowie has audiences commenting how eerily close his voice, moves and mannerisms are to that of Bowie himself.
Paul Henderson first caught national attention when he appeared on Stars In Their Eyes in 1993, where he performed Space Oddity, dressed as Bowie's legendary Ziggy Stardust. From there he performed at conventions around the country as Bowie.
The line up of the band has been refined during the 2000s and now comprises Steve Beeston on keyboards, Carl Stones on guitar, Franco Caprio on bass, Rick Cook on drums, with Paul as Bowie on 12 string acoustic, to make the sound of Aladdinsane the band it is today.
Aladdinsane cover all of the hits – Space Oddity, Changes, Ashes To Ashes, Heroes, Let's Dance, Drive-In Saturday, Jean Genie, Life On Mars, Fame, Starman, Diamond Dogs – and include some classic album tracks from Bowie's vast repertoire. Paul's outfits reflect Bowie's tours from 1976 to 2003.
Bootleg Bolan – notes from the band:
With the loss of Bobby TooREX leaving an enormous hole in the live performance of T.Rex songs, we decided to form a NEW T.Rex Tribute Supergroup, to be called "Bootleg Bolan" (original eh..?!😉).
But why "supergroup" I hear you ask..? Well, coz we've picked out some of the finest T.Rex tribute musicians available to be part of it, including "Stars in Their Eyes" finalist Rob Cairns, Ant Cook from Tyrannosaurus Jed, Ian Zapper Francis from TooREX, Noel Zipgun Boshell from Zapper's old band The Fabulous Wartburgs, and TooREX dep drummer Martin Jellyroll Scott.
Playing all your favourite T.Rex songs plus some less well-known gems Bootleg Bolan aim to keep regular gig-goers as well as fully-fledged Boleys happy.
Leigh Community Centre on 25th February, 2023. Doors open 7:30pm
Licensed bar available all evening.
Free parking behind the Community Centre.
This is a mixed standing / seated event.
Tickets: £20 in advance, £25 on the door (if available). Tickets are available from Revolver Records / Martin Wood Events and from the Leigh Community Centre Cafe as well as here online. Online ticket prices have a £1 booking fee included.
There are a mixture of seats and standing tickets for this gig.
The number of seats is strictly limited. Seats are at tables, usually for 8 people. Please be aware that couples and smaller groups will therefore be sharing a table with others.
Please be aware that if you are seated, people around you will be standing and/or dancing and it is not possible to guarantee an uninterrupted view of the stage.
PLEASE NOTE:
We are experiencing issues with emails not being delivered to email addresses controlled by Microsoft i.e. Hotmail, Outlook, Live, and MSN. We have addressed this with Microsoft and are waiting for them to whitelist our domain.
In the meantime, if you have an alternative email address please use that when booking tickets.
If that's not possible, please email Martin at martinwood382@gmail.com and he will forward your ticket information.
WE MAINTAIN A LIST OF ALL ONLINE TICKET SALES AT EACH EVENT SO WE ALWAYS HAVE A RECORD OF YOUR PURCHASE ON THE NIGHT – YOU DO NOT NEED TO PRODUCE A PRINTED TICKET.
Tickets include a £
1.00
ticket handling charge.