ACYL Pink Floyd Charity Night - Archived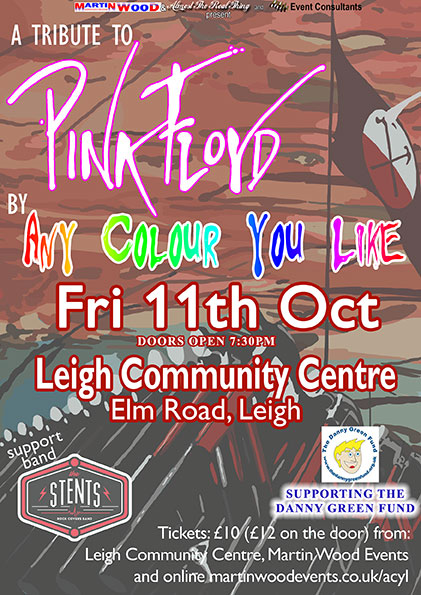 We are delighted to welcome the UK's foremost Pink Floyd tribute band – Any Colour You Like – to Leigh Community Centre on Friday 11 October 2019 for a Charity Night supporting The Danny Green Fund.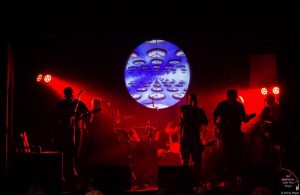 Any Colour You Like are an 11 piece Pink Floyd tribute band formed in 1994 and are based in and around London. They are totally self-funded and only play for charity, and as such are much in demand. So we are extremely privileged to have them perform for this Charity Night.

The Danny Green Fund (charity registration number 1150334) is a non-profit charity and every penny raised helps the children that the charity supports. They are the only charity in the UK set up specifically to support children who are recovering from PFS (Posterior Fossa Syndrome) following brain tumour surgery. PFS causes numerous neurological problems and often leaves the child unable to speak, swallow or to move unaided, and affects their ability to balance and to walk unaided. All of these symptoms can be overcome with time and the support that the charity is able to offer.
The charity provides vital therapies for children who are suffering from disabilities as a result of this devastating syndrome. We aim to help children to recover from the difficulties they face on a daily basis to offer them a brighter future by becoming more independent and to achieve their individual goals and dreams.
They are the only charity in the UK to provide weekly therapy sessions for children who are suffering from PFS.
The Danny Green Fund was set up in memory of Danny Green who was sadly diagnosed with a brain tumour and Posterior Fossa Syndrome in November 2011, and who died in July 2012.
www.thedannygreenfund.org.uk
Licenced bar available all evening.
Free parking.
Tickets: £10 in advance, £12 on the door.
This year we are offering reserved seating (at no extra cost) so please choose:
PLEASE NOTE: If you do not prebook seats we cannot guarantee there will be spare seats on the night.
There are a mixture of seats and standing tickets for this gig.The number of seats is limited. Seats are at tables, usually for 8 people. Please be aware that couples and smaller groups will therefore be sharing a table with others.Please be aware that if you are seated, people around you will be standing and/or dancing and it is not possible to guarantee an uninterrupted view of the stage.
All online tickets have a £1 booking fee added.