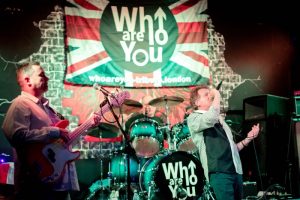 The eighth in a great series of rock tribute acts under the 'Leigh Rock' banner.
The UK's hottest Who tribute band – 'WHO ARE YOU' – are a Kent-based group formed for one simple reason – to celebrate and have fun playing songs by the most exciting band in the history of rock. Massive Who fans playing to massive Who fans – and hopefully converting a few others along the way. That's the idea.
Substitute, My Generation, The Seeker, Pinball Wizard, Won't Get Fooled Again – all the hits and more!
Leigh Community Centre on 22nd Sept, 2018. Doors open 7:30pm
Licenced bar available all evening.
This is a mainly standing event.
Tickets: £10 in advance and £12 on the door.